A music retailer currently receives on average 1,500 visits per month but doesn't rank on page one for specific keywords such as 'music memorabilia UK'. The new website is responsive on mobile devices but the blog is not very active. The website receives regular orders 24/7 from territories such as UK, Europe, USA, Canada, Asia and Australia. Fortunately, the website has active Twitter and Facebook accounts with a respectable following.
The average value of an order is £25. With an average 70% Click Through Rates (CTR) for websites that rank number one on Google (around 30% for third place) we can expect a significant increase in website traffic. The website owner wants an increase of at least two sales per day (total value average £50) over 365 days which would generate an income of around £18,250 per annum.
The owners don't want to learn and manage SEO themselves so they engage The Nth Degree on a monthly retainer of £750+VAT. However, they are willing to write blog articles and occasionally post messages on social media about new products and special offers.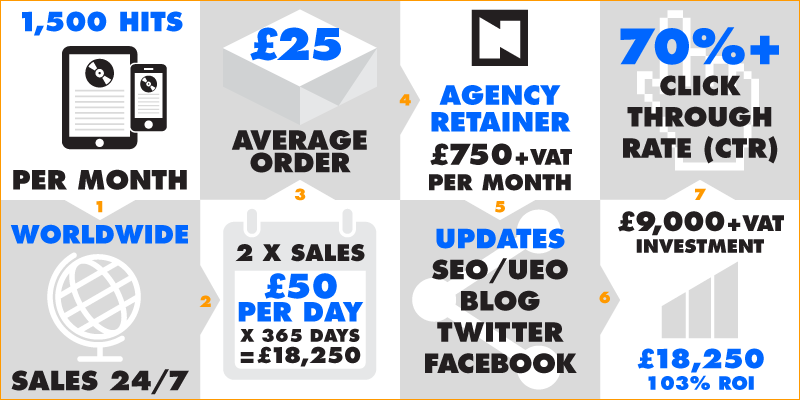 The Nth Degree's monthly retainer for SEO includes (scroll down for more detailed definitions):
On-site SEO.
Two 1,5000 word (approx.) blog articles per month.
One post per day to Facebook.
Three posts per day to Twitter (management of incoming messages and reporting is an optional extra).
From an annual investment of £9,000+VAT the website can expect to generate at least an additional £18,250 per annum giving around 103% return on investment. By outsourcing the retailers can spend their time doing what they do best – managing the orders and sourcing new products for their online shop.
Read this post for a snap shot of the SEO landscape right now, how it's changing and what you can do to optimise your website.