Ever since The Nth Degree started out in 2010, most of our clients, prospects and suppliers have asked us to position their website on page one of search engines or even the number one spot on Google.
This key challenge has resulted in a multitude of specialist firms focused on helping clients reach the top spot or as Lord Alan Sugar would say 'get your company up the pecking order on Google'. Indeed, the market for this niche service is such that in The Apprentice 2014 Lord Sugar (one of the UK's wealthiest entrepreneurs) invested £250K in Mark E Wright's winning business plan for Climb Online. With many organisations dependent on their website for sales, new business and enquiries, it's understandable that these businesses regard climbing Google rankings as a priority. Some enterprises have other lead generation methods such as advertising, direct mail or a sales team, so SEO or User Engagement Optimisation (UEO) is not necessary.
But is getting on the first page of search results (never mind the top three) a realistic goal for a business, especially one with a modest marketing budget? Firstly, whether you do it yourself or commission an agency, such as The Nth Degree, to do it for you there are no quick fixes or easy wins. Like everything else the more effort and resources you invest in doing the right things the more success you will achieve. But before you choose between the DIY approach or outsourcing, try and estimate whether the return on investment is worth it, before you embark on any SEO strategy. I am going to use an e-commerce website as an example.
Calculating the return on inves­tment for SEO
Here's an infographic showing the ROI for a music memorabilia online retailer. Read more about this ROI calculation.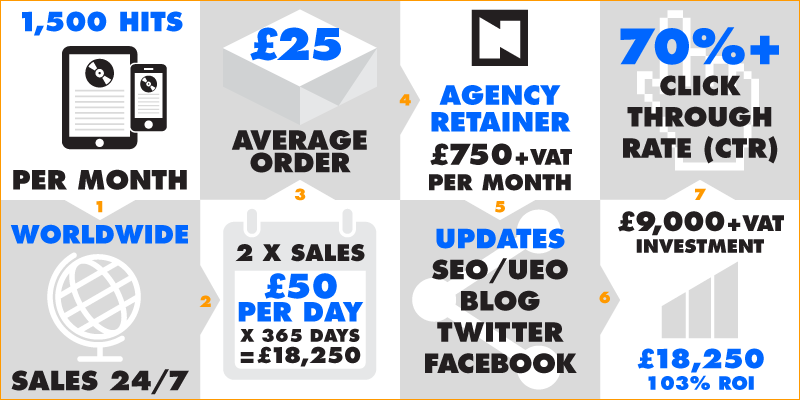 Read on for more detail on why The Nth Degree's SEO package includes social media management.
Here's a snap shot of the SEO landscape right now, how it's changing and what you can do to optimise your website.
What is SEO and why should I care about how it's changing?
SEO is essentially an ever-changing list of methodologies digital marketers adopt to improve a websites ranking on search engines. These basically fall into two camps outlined below. On-site SEO Some of the key things you can change or add to your website:
There are dozens of other tactics you can implement, but as the video by Rand Fishkin below shows some have more impact than others. In reality some previously 'best practice' tactics are now obsolete.
Off-site SEO
Some of the most popular tactics that don't involve tinkering with your website include:  
Stories, features or blog articles from an authoritative websites in your sector, profession or industry e.g. www.recordcollector.com or STV Edinburgh.
Paid for Click Campaigns (PPC) such as Google Adwords, Bing Ads.
Advertising on Facebook and Twitter.
How SEO is changing and why it should be known as UEO
While the above SEO tactics should not be ignored, customers don't always use search engines for sourcing goods and services. In fact, searches on Google are in gradual decline (source). While the importance of SEO is not going to disappear overnight, people search using a variety of platforms such as:
Social searches on Facebook, Twitter and YouTube together with discovery shopping on Pinterest.
Users using mobile apps more than web browsers such as Instagram, Periscope and SnapChat.
TripAdvisor, Amazon and eBay.
Voice search is growing – Google has stiff competition from Apple's Siri, Microsoft's Cortana, Facebook M, and many more.
And people are sharing, liking and commenting on content, especially video. In 2015 Facebook shifted its focus to video (by changing the algorithm and adding auto-play) because posting a video instead of text and an image can increase reach by 135%. In the US 50% of Facebook daily users watch at least one video per day (source). YouTube meanwhile is the second largest search engine in the world (see infographic). According to Cisco, by 2017, video will account for 69% of all internet consumer internet traffic (source). With the drift away from using search engines exclusively, customers are discovering new products and services through shared videos on social sites and apps such as Instagram and Pinterest. Businesses that stand still are left behind and miss out on a significant amount of potential sales. If you're a small business on a limited budget you are probably thinking: 'what can I do so that I don't miss out?'
Why my business needs The Nth Degree to manage my SEO and UEO
Hiring us is the best approach as you can focus on managing and growing your business rather than being overwhelmed by the ever-changing SEO landscape. Just leave it to us… Here are a few more reasons why:
All output and content is aligned to a marketing strategy to ensure all messages resonate with your audience and are pushed out on a regular and consistent basis. If you don't have a marketing strategy we can develop one for you.
We keep up-to-date with the latest developments and attend industry events such as TMFA in London.
We have a solid track record with SEO (700% increase in traffic – see case study) and YouTube channel with over 400K views and have produced multiple videos for our clients.
DIY approach to SEO and UEO
We understand that you might be itching to get going right now, especially if your business is a start-up, so here are a few pointers to get you started.
Add or optimise the Title Tags and meta descriptions on your website.
Measure traffic for keywords using Google's Keyword Planner or Market Samurai.
Google regularly changes its algorithm and many popular tactics can be less relevant. The videos by Google stalwart, Matt Cutts, are great viewing for keeping informed about best practice and new techniques.
Write a 1,500 word (approx.) blog post at least fortnightly. Topics on how your business can overcome a problem or make life easier are recommended. Articles with at least 1,500 words attract more traffic than shorter ones.
Good resources for SEO news and information: Search Engine Land, Search Engine Journal and Moz.
Convey key messages about your business using a drag and drop video production tool Content Samurai.
Call 0131 618 2999 to discuss your marketing and design requirements.